There are many things to do all year round in Vienna, There are activities to do all year round in Vienna. Whether it's ice skating in Vienna's frigid winter, strolling through the woods on a pleasant autumn afternoon, enjoying the thrill of a summer amusement park, or purchasing a seasonal fruit at an outdoor market in spring, Vienna is always a wonderful place to visit.
Vienna in summer
There are many ways to spend your time during Vienna's extremely hot summer. You can enjoy a day at the car-free Danube, where you can just sit and relax in a beautiful and fun-filled atmosphere, or walk around and visit its bars, restaurants, and street art. Or you can check out the Wurstelprater Amusement Park, featuring one of the first Ferris wheels ever built. Gorgeous Vienna summers are filled with countless fun and entertaining activities and festivals.
Vienna in winter
Despite the frigidity of Vienna's winters, the skies are often lovely and a thin layer of beautiful snow completes a perfect picturesque view. One unforgettable winter activity is to join the hundreds of thousands who ice skate on the enormous skating area with lights and city hall as the perfect backdrop. Of course, there are countless amazing bars and cafes where you can warm up on a cold winter day, like the 130-year old Café Central.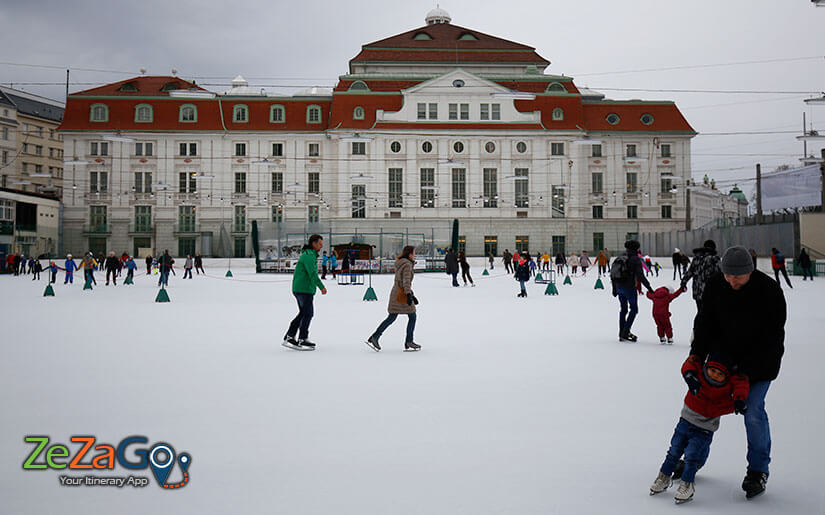 Vienna in autumn
Autumn in winter can get a bit rainy and windy, but it is quite pleasant for an afternoon walk. One gorgeous option is to take a walk through the Viennese Woods, where you can see the amazing and vast colors of autumn. There are also many beautiful parks to stroll through, and if it's rainy, autumn is a perfect time to visit one of Vienna's many museums or the Stephansdom, an important and breathtaking cathedral.
Vienna in spring
As Vienna's winter slowly ebbs away, an utterly fantastic spring emerges, replete with countless activities. You can walk through Stadtpark and witness the magical pink of the cherry blossoms, or enjoy any of Vienna's 280 imperial parks. Or you can revel in the seasonal produce of Vienna's outdoor markets or buy a rare plant at the majestic Botanical Gardens. And spring is the perfect time to enjoy the fine wining and dining at the Naschmarkt.