There is longstanding history of the Jewish presence in Vienna, stemming back over 800 years. In fact, by the end of the 19th century, Vienna was one of the most prominent centers of Jewish culture in Europe. However, during the period of National-Socialist rule in Austria, Vienna's Jewish population was almost entirely wiped out in the Holocaust. Since 1945, Jewish culture and society have gradually been recovering and returning to the thriving days of old. ​
Photo copyright: Jewish Museum
Just about the best way to experience this long and fascinating history is to visit the Jewish Museum on Dorotheergasse. Visitors are first greeted by a lovely recreated installation by artist Brigitte Kowanz on the façade and entrance area. There are thee permanent exhibitions in the Jewish Museum. The newly arranged Display Depot contains collections and teaches about the collectors behind them, like Max Berger. The Studio is a workshop and exhibition space for everyday ritual objects.
The newest permanent exhibition is "Our City!", which provides comprehensive insights into Jewish life and the history of Jewish Vienna. Visitors begin on the ground floor learning about 1945 to today. They continue to the second floor, and experience Jewish history from its Viennese origin to the period of 1938-1945. They'll even experience a 3D animation of a Viennese synagogue destroyed in 1938!
There are also several great temporary exhibitions, events held in the museum, and a lovely cafe and gift shop on the ground floor. And it's very important to see the Museum Judenplatz with its profound Holocaust memorial.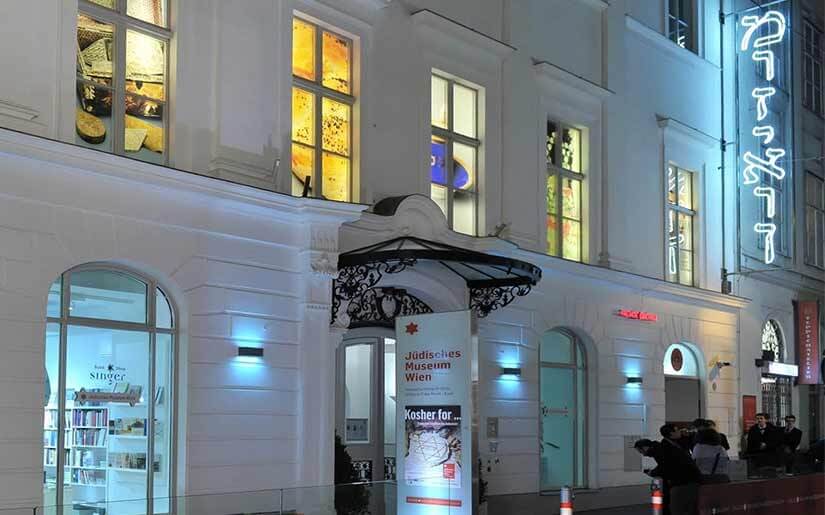 Photo copyright: Jewish Museum