How long have you dreamt about a two-day trip to see the amazing city of Vienna? We have so many suggestions for fantastic ways to spend your time. From palaces, gardens, and museums, to restaurants, zoos, and performances, Austria's capital city is one of the most incredible places you could ever visit.
There are endless places to go, sights to see, foods you absolutely need to taste, and unique experiences you certainly won't want to miss. To make sure you maximize the experience, we strongly suggest you perfect your two-day journey with our simple and free Smart Trip Planner.
Your first 24 hours in Vienna
Your first day was a brilliant and exhausting pleasure. You saw a unique and gorgeous view of the city from the St. Michael's Cathedral and from way up in the air from the world's oldest still-operating Ferris Wheel. You shopped to your heart's content at Stephansplatz and Graben.
You witnessed pieces of Vienna's history up close and personal in the Sisi Museum, the Imperial Apartments and the Treasury, walking in front of City Hall, and had a delicious cup of coffee at the Mozart Café and the best Wiener Schnitzel you've ever tasted at Café Landtmann. Now what's in store for day two?
Click here to the first 24 hours itinerary in Vienna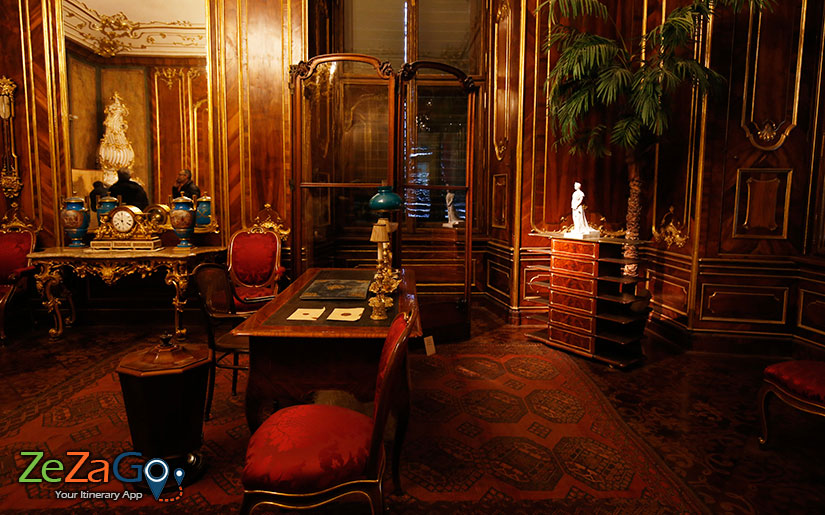 Schonbrunn Palace
A great place to start day two is the Schonbrunn Palace, the former Hapsburg summer residence. The palace complex is practically a trip unto itself. There are endless staterooms, filled with gorgeous furniture replete with beauty and history. There's also an enchanting park with statues and fountains, and so much more!
Learn more about: Schonbrunn Palace
Schonbrunn Gardens
Start with the French-style, beautifully tended Schonbrunn Gardens. This enchanting garden is filled with vivid colors and has everything from a maze of hedges, gorgeous flowers, and a relaxing pond, to incredible statues, monuments, and the ever-impressive fountains, including the Neptunbrunnen (Neptune Fountain) among other remarkable original structures.
Learn more about: Schonbrunn Gardens
Gloriette
No trip to Schonbrunn Gardens is complete without stopping for a bite at Café Gloriette. This glorious structure was built in 1775, and it is the perfect place to enjoy delectable pastries, a magnificent view of Vienna, and a wide variety of live music during your Sunday morning brunch.
Learn more about: Gloriette
Apple Strudel Show
Another enjoyable way to explore Schonbrunn Palace is to head over to the demonstration bakery of Café Residenz for the hourly Apple Strudel Show. Those who attend get to watch a professional pastry chef craft this divine dessert, and are even given the recipe so they can try it out on their own.
Learn more about: Apple Strudel Show
Visit Schonbrunn's Palace Rooms
It's a unique and special opportunity to visit the palace rooms of Schonbrunn Palace. In total, there are 1,441 rooms, 45 of which can be visited. These rooms are filled with royal history, and are regally decorated from top to bottom. Get a true feel for the life of generations of Hapsburg royalty by exploring their renowned summer residence, including rooms and halls where Mozart performed as a child prodigy and Napoleon held conferences.
Imperial Carriage Museum
One of the most famous Schonbrunn attractions is the Kaiserlich Wagenberg Museum, with its magnificent assortment of royal vehicles, including the Hapsburg coronation car (the Imperial wagon), Napoleon's son's golden carriage, the sleeping vehicle of Emperor Franz I, and many more. A special highlight is the "Sisi trail", which gives a glimpse into the life of the enigmatic Empress Elisabeth.
Learn more about: Imperial Carriage Museum
Schonbrunn Zoo
While at Schonbrunn, you will not want to miss the Schonbrunn Zoo, the world's oldest zoo, which was voted the best zoo in Europe multiple times. This remarkable zoo is home to over 700 kinds of animals, including Siberian tigers, koalas and rhinoceros. People come from far and wide to see the zoo's giant rainforest house as well as its entertaining orangutan enclosure. There's always something new. They add special enclosures and animal houses each year.
Learn more about: Schonbrunn Zoo
Vienna's Naschmarkt
You should absolutely not miss out on a visit to Naschmarkt, Vienna's best-known market with around 120 market stands and restaurants for a truly unbelievable experience for people of all ages. This vast and trendy market has a fantastic assortment of colorful fresh fruits and vegetables, delicacies from around the world, and even free Wi-Fi. We strongly recommend you take a lunch break at the Block House restaurant for just about the best steak you could imagine.
Learn more about: Vienna's Naschmarkt
Hundertwasser House
Next, take a trip to Hundertwasser, where you can enjoy the Hundertwasser House, one of the architectural highlights of Vienna with its unique and colorful façade. Nearby you'll find Hundertwasser Village. Created from a tire workshop, this is a very special small shopping area with a café, a bar, and several nice shops, all created in the inimitable Hundertwasser style. Finally, enjoy the Hundertwasser Museum, to truly get a feel for the creative genius of Friedensreich Hundertwasser.
Learn more about: Hundertwasser House
Grinzing Nightlife
Your second day in Vienna would be incomplete without a quality night experience. One unforgettable option is to visit the old Viennese wine town of Grinzing, with a tour of its vineyards and a trip to its many wine taverns. Grinzing is quite a place to see, with stunning ancient architecture and fragments of Roman ruins. You can also head on over to the famous Wine Tavern Wolf to experience the Vienna Heurigen Show. This impressive performance is a whirlwind of colorful costumes and a wide variety of magnificent singing and spectacular dances. It is recommended that tickets be purchased in advance.